3D Engraving using PicEngrave Pro 5
This process took a couple of days to get the settings and image edited just right for 3D engraving with our EmBlaser. We used this Depth Map Grayscale image and did some editing to it in Corel Photo Paint first. The first image is how it was originally and the second was after the editing.
The settings in PicEngrave Pro 5 was .006" (.1524mm) Pixel Resolution, 85IPM (2159mm/min), 90% Feed Rate Change, Min 20 & Max 255 laser power and we used the Ellipse option, In the black areas around the outside it was running at full power and at 8.5IPM (215.9mm/min) feedrate. It cut .125" (3.175mm) deep in those areas and the wood we used was Poplar again. The engraving is 3.43 (87.12mm) X 5.15 (130.81mm) and took 3 hours 41 minutes to engrave. We are using the default driver amp setting of 1.8a.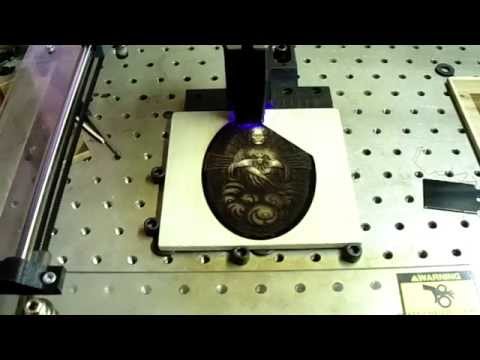 This is how it looked after engraving.
These are after we had taken a plastic bristle brush and water to wash off the soot.