Ellipse Photo Engraving
We did a Steam Locomotive photo engraving today on Poplar and here is a short video of it running on the EmBlaser. We used the "Ellipse" & "Laser Edge" option this time in PicEngrave Pro 5.
If you have your EmBlaser Laser driver is set at the default 1.8a, then the best settings we found are a Feed Rate of 85 IPM (2159mm/min), Maximum PWM value of 200 and a Minimum PWM Value of 10. We were able to focus the laser beam down to .005" (.127mm) size with the 3 element glass lens. A Pixel Resolution of .006" (.1524mm) was used and engraved at a 45 degree angle so the burn lines will slightly overlap.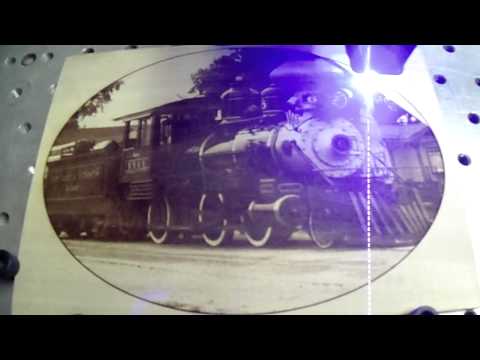 Here are a few of our previous Laser Diode engravings done on Poplar with the EmBlaser.