Panoramic Photo Engraving
Basswood laser engraves real easy, so I maxed out the feedrate on this one. In PicEngrave Pro 5, I set it at 170IPM (4318mm/min) and 35% Feed Rate Change. Power levels were set at Max 255 & Min 10.
This is the original image and I had to re-size for the height of the material and then cropped the width for the X travel limit on our EmBlaser.
http://upload.wikimedia.org/wikipedia/commons/f/fc/BridgetownBarbadosPanarama.jpg
The engraved size is 16.5" X 3.75" (419.1mm X 95.25mm) and it took 2 hours 28 minutes to engrave. There are 1,717,848 lines of Gcode in the file and our version 2.0.08 PicSender program streamed it flawlessly to the EmBlaser.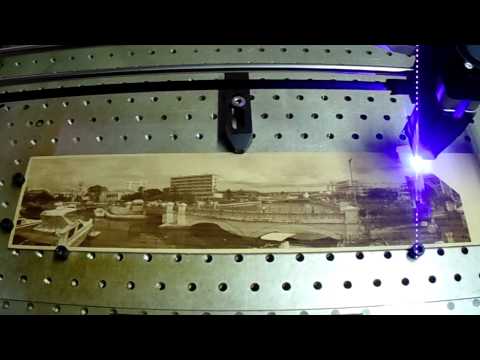 The engraving is too long to fit in our scanner, so this was the best picture I could take of it. The picture does not do the fine detail or shading justice.